Do you have a heart that tells you to leave the world a better place than when you entered it?
Do you empathize with those less fortunate than yourself?
When you see a powerful, proven, effective plan for change does it move you? 
Can you see yourself becoming a force in a movement already improving the environment, empowering women, creating wealth where little has existed, increasing food security and giving newfound hope and inspiration to countless souls?
Then consider becoming a leader in Raising Haiti's community twinning initiative.
Here's the story:  
Most of Haiti is rural and most rural Haitian families farm for a living. But Haitians receive little assistance from the government, live on less than you would ever think possible and struggle to maintain dignity through their poverty. Crop yields are limited and forgoing regular hot meals is a way of life. Making matters worse, in order to produce charcoal for fuel, Haiti has been horribly deforested, which is an environmental catastrophe.
A solution? It all begins with a Tree Nursery!  Here's how it works: Communities of farmers and their families are engaged to plant and nurture trees in exchange for TREE CURRENCY in the form of credits that can be redeemed for crop seeds, farm tools, agricultural training and livestock.  Our farmers have already planted more than 7,000,000 trees helping to turn the tide of deforestation and improving Haiti's environment while empowering participants to improve their lives. In fact, household incomes of our 6,000 farmer participants have increased an average of 50%.
An adjunct program is our microcredit initiative. We believe that one of the keys to the transformation of any developing country is the empowerment of women. Our microcredit program works with teams of women from participating farm families, making small loans and providing training to help them start or improve small businesses to further augment family income. We have made hundreds and hundreds of such loans and have a 100% REPAYMENT HISTORY with ABSOLUTELY NO DEFAULTS!
With your help we will expand on our 31 tree nurseries taking our proven approach to countless new Haitian communities.
How are Haitian communities identified as ready for our twinning program?
First, we perform an exhaustive review of a community before deciding to focus time, effort and resources. Click here to find reports on some of our 3LEGS pilot project communities now ready for TWINNING. These thorough reports were recently completed based on in-person assessment visits by Smallholder Farmers Alliance, one of our Haitian partner organizations. 
One of our partners, the global outdoor brand Timberland, has recently signed a commitment to purchase up to one third of its cotton requirements, subject to quality, price and organic certification, from a supply chain that connects our growing network of farmers. That single purchasing commitment will eventually lead to exporting up to ten million pounds of cotton per year!
Haiti was a vibrant cotton producer until 30 years ago when cotton production disappeared completely. We are actively revitalizing the cotton industry in Haiti focusing on the historic cotton production districts.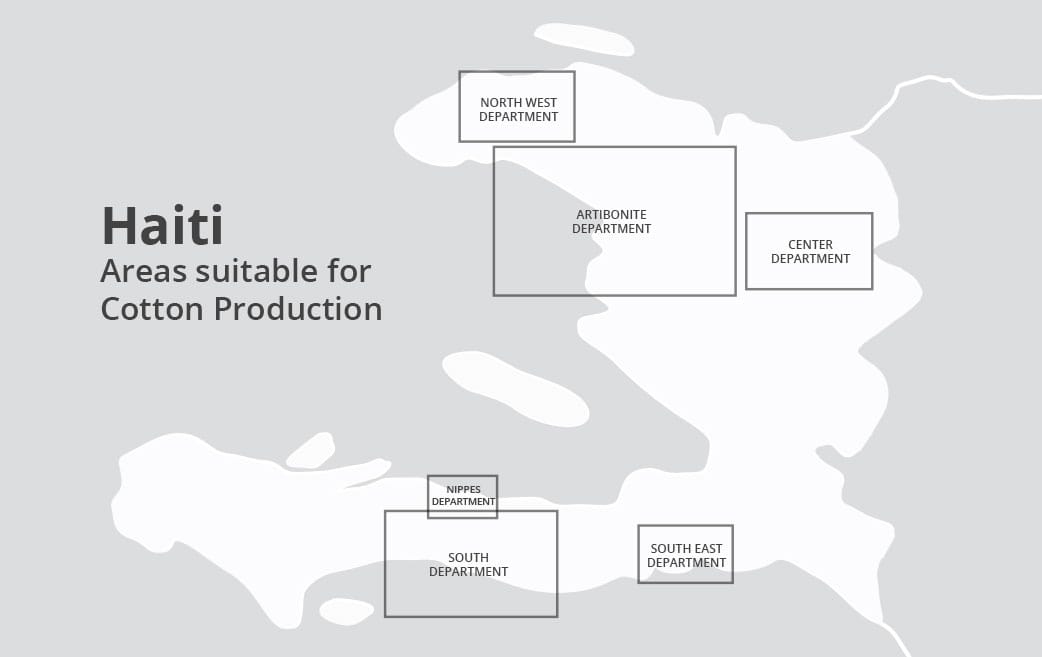 So, for the time being, we are ONLY engaging with new communities that are situated within the historic cotton districts. This way, our participating farmers will have an immediate outlet for their cotton.
What does a community twinning leader do?  
Start by adopting one of Raising Haiti's rural Haitian communities.
Tell our story to others.
Assemble a community of financial support to start a tree nursery and microcredit program in your adopted community.
Are there examples of successful community twinning? 
Absolutely! One such example is the community of Medor.  
What will my U.S. twinning community look like?
That's really up to you. Frankly, the possibilities for the makeup of U.S. Twinning communities are limitless. Your community could include your family or a group of families; your church group or religious affiliation; the company you work for, a business or collection of businesses; your university, your high school, a community or civic group or any combination of these. Maybe even a virtual community?
One of our partners is the Parish Twinning Program of the Americas. Over the past 40 years PTPA has connected 300 Catholic Churches with 300 sister communities in Haiti. We are expanding on their success and learning from their challenges. We are following PTPA's approach and adding a proven system already improving the lives of thousands of Haitians. Recognizing the possibilities in our plan PTPA has agreed to work closely with us in bringing our approach to their existing twinning relationships.
There are many creative ways to generate interest and develop a U.S. based twinning community. We'd like to share a few ideas to get you thinking about the possibilities.
Click here to indicate your interest in learning more. You'll receive a personal follow up from our executive director or board of directors president.